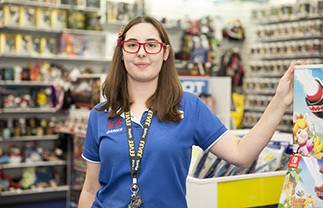 Jasmine
Tell us a bit about your shop or service: We sell video games, POP culture & new tech items.

What's in season or really popular right now with shoppers? Lost of new releases; Monster Hunter, UFC 3 and Dragon Ball Fighters.

How long have you been working here? I have been with the company almost 10 years and 2 years at Campbelltown Mall.

Are you a big or small crew, how many of you working there? We are a small family of 9 staff who love to go home and play games together.

What do you reckon is best part of your job? The people i work with and experiences I have everyday, plus free games!

What are your interests in life? Any hobbies, interests or mad obsessions? Games, Art and Photography! I also volunteer for W.I.R.E.S and help Starlight Children Foundation.

So, do you think your shop or service helps make shoppers' lives easier? I think "gaming" has a positive impact on helping peoples lives. It allows those who can't do other physical activities to feel achieved at in game tasks. It also always engaging meeting and talking to people online.

Do you have local customers you know by name, or like to have a chat with? I defiantly have learnt a few people names! In our free time i enjoy having a little gossip about gaming news.

What do you think makes Campbelltown Mall a great community and/or good place to shop? I think Campbelltown Mall is perfect for the things we need, easy parking and a nice few clothing stores too.

Name two things you like most about working at the centre? Every shop owner and the security guards i have engaged with has been awesome and willing to go above and beyond for there customers.
.
Do you have a fave time in the centre and if so why? The awesome promotions the centre dose! I've never worked at a centre so great as them.