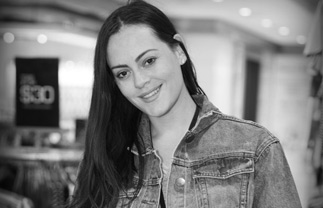 Kellie
Cotton On

Tell us a bit about your shop or service: We are a unisex fashion based retail store.

What's in season or really popular right now with shoppers? Floral print is really in at the moment, it is a very eye catching design that is perfect for summer.

… and what's your favourite thing instore at the moment?
I am really loving our kimonos that we have in store.

How long have you been working here? Nearly 1 year.

Are you a big or small crew, how many of you working there? We are small crew with 6 staff working here.

What do you reckon is best part of your job? Giving a customer a great shopping and customer service experience. I also really enjoy training the team and raising money for our Cotton On foundation.

What are your interests in life? Any hobbies, interests or mad obsessions? I love to travel and keep fit.

So, do you think your shop or service helps make shoppers' lives easier? If so, tell us how: Yes, I think so. I like assist our customer and make sure they are 100% happy with their purchase.

Do you have local customers you know by name, or like to have a chat with?
Yes, I know a few regular customers.

What do you think makes Campbelltown Mall a great community and/or good place to shop? Great food court and range of shops for all budgets.